Efraim Racker's art albums: two dimensional, mixed media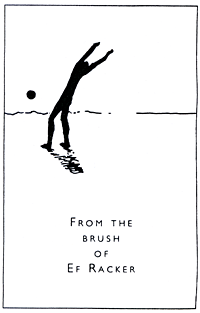 Browse all albums
Efraim Racker ("Ef or Efi") (1913-1991) started painting in Vienna when an aunt gave him an oil painting set in 1925 for his twelfth birthday. His high school art teacher, Viktor Loewenfeld, who later became a renowned expert in the relationship between psychology and art, guided him. Ef was influenced by expressionists and the Viennese secessionists especially Egon Schiele, who remained one of his favorite artists.
In 1932, Ef entered the prestigious Academy of Fine Arts Vienna [Akademie der Kuenste], but only stayed briefly rejecting the formality of training. Soon after, he entered the University of Vienna Medical School. He continued to paint and draw prolifically throughout his life.
When Ef died on September 9, 1991, he was preparing to take a leave from his laboratory at Cornell and his home art studio to attend his first retreat, the Djerassi Resident Artists Program in Woodside, CA.
While Ef pursued scientific research and art seriously, he was legendary for his humor. Until now, very few have had the opportunity to view these 79 art albums, which he assembled thematically, using his paintings, sketches, and drawings. They are by no means scrapbooks or doodles. The albums reflect his passion to experiment with mixed media. Some of these albums represent satirical comments on his surroundings not shown in his full sized paintings.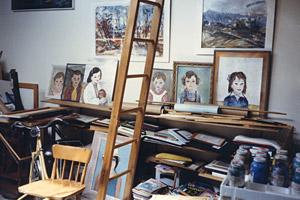 Ef used many of the smaller paintings and sketches (2x4," 3x5," 7x10," 8x10") from these albums to create hundreds of full size paintings (6"x 21", 36" x 27" and larger). Most of the paintings, which he sold for student scholarships or gave to friends and family, are landscapes and seascapes. There are some portraits of friends, relatives, fellow scientists and of children. Most albums and individual paintings and drawings within them have titles, primarily in English.
Franziska (Frances, Franzi, "Anzi"), his wife, describes his styles as "manifold and subject to constant change." Media includes: oil, charcoal, ink, acrylics, watercolors, magic markers, pencil and computer dot matrix prints.
There are 79 albums: Ef presented most of the albums to his wife "Anzi" for their wedding anniversary on August 24 or for her birthday on April 26. Several albums are dated December 24 and were prepared for family members as Holiday presents. However, there are several exceptions:
Ef created the four albums described below for his daughter Ann and her husband John Costello.
He illustrated two poems by the poet Johann Wolfgang von Goethe (German 1749-1832) who was passionate about nature

"Mai Lied" (Mailied) "How Marvelously Does Nature Shine for Me" (dated December 1972) Ef only illustrated the first two verses of the poem using Goethe's words in German as titles for individual images. (Note: Goethe wrote this famous poem when he was only 23 in 1772. Ef may have been honoring Goethe's 200th birthday.)
Wanderers Nachtlied II, "Wayfarers Night Song II" (dated December 1972). Ef illustrated the entire poem using Goethe"s words in German as titles for individual images.
"Forte and Piano by FW Racker" (Franziska Weiss Racker, his wife, wrote the text and Ef illustrated this short story which they created as an album. Ann, their daughter, suggests that they presented the album Dec. 24, 1980 as a gift to her and her husband, John when she was pregnant with their first grandchild, Rebecca.
"The Wind" by James Stephens (Irish 1882-1950) Ef illustrated this poem and presented the album Dec. 24, 1977.
Home art studio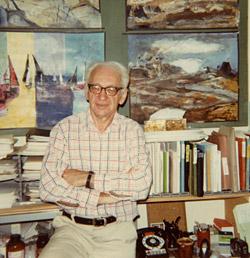 Ef painted and sketched as he moved from lab to lab,often under adverse circumstances. He did create two home studios.
1958-66 When Ef and his family lived in Mount Vernon, NY, he used the attic of their house as a studio.
1966-1991 After Ef, Franzi and Ann moved to Ithaca in 1966, he built an art studio attached to their home with a sweeping view of Cayuga Lake. He painted and drew many evenings and weekends after a long day in his laboratory. He would often invite family, friends and visiting students to view his paintings.
Art album preservation
Ithaca photographer Jon Reis digitally photographed the albums as raw files in 2012. The digitized photographs of the albums are now preserved in the Efraim Racker Collection as part of the Cornell University Library Rare and Manuscript Collections.
Some of the albums are now quite fragile. Most of these album covers are inexpensive plastic binders, scrapbooks and photo albums which he bound with nuts and bolts, aluminum rings, string and small leather belts. He mounted his artwork in the albums on construction paper, card stock, graph paper, photo album sticky pages, and Cornell stationary.